ACCESS MANAGEMENT IN DIGITAL SECURITY SYSTEMS
What really matters.
Digital access control systems are valued highly in security technology for buildings. SmartIntego by SimonsVoss impresses with seamless integration and optimum quality.

Who is allowed to be in specific parts of the building and who isn't? How flexibly can individual access be managed? What locking media can be used? How quickly can people and rooms be protected in the event of panic or attack situation? Questions such as these present enormous challenges to those responsible for building security. This is particularly the case when the access control system is to be seamlessly embedded into the overall building management system.
In normal situations or in the event of a fire, break-in or another emergency, a security system's efficiency ultimately depends on the stability and intelligence of its locking and access components. That is why SimonsVoss is setting new standards in building security with SmartIntego, the perfect solution for integrated access control.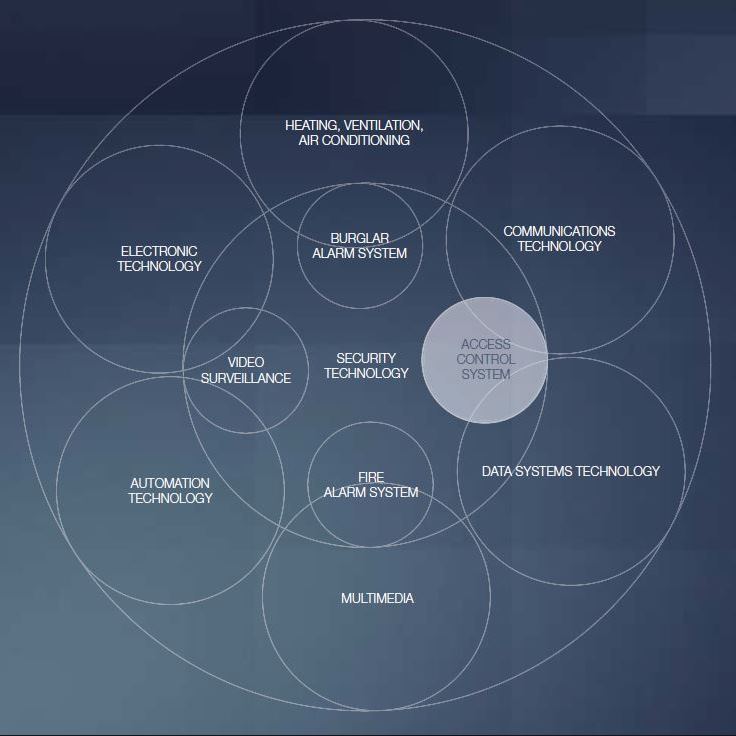 Access control with SmartIntego integrates the distinctive advantages of digital locking into complex building management systems.

In terms of security and convenience, there is no alternative to electronic ID media, digital cylinders and handles when it comes to locking access points without a key. SmartIntego allows individual and timelimited access rights to be deployed, for example while locking operations can also be logged without interruption.

If lost, SmartCards can be blocked at the click of a mouse or if any users leave
the organisation. New SmartCards canbe generated instantly with specific authorisations, delivering significant administrative cost savings and fast return on investment. When combined with other security systems such as fire and intruder alarms or video surveillance, keyless locking assists significantly towards ensuring safety and well-being for people within the building.

Different systems are increasingly combined and operated in a TCP/IP-based network to reduce the complexity of security technology while increasing its effectiveness. The more powerful a system is and the more effectively it can be incorporated into a network, the better the overall solution is. In normal situations or in the event of a fire, intrusion or another emergency, a security system's efficiency ultimately depends on the stability and intelligence of its locking and access components. Introducing SmartIntego, the new standard in building security.



STATE OF THE ART
Integration of electronic instead of mechanical access control in existing building systems based on flexible interfaces, high-performance protocols and open system design.
USE OF EXISTING IT INFRASTRUCTURE
SmartIntego can also be integrated into heterogeneous IT infrastructures via existing user interfaces at no great cost without the added complication of connecting through additional databases or software.
SIMPLE, CABLE-FREE INSTALLATION
Cables do not need to be installed or connected. Standard button cells ensure that cylinders and SmartHandles do not depend on an external power supply.
SNAP-IN INSTALLATION
The system features a unique mounting technology to affix SmartHandles to doors without needing to drill holes. This brings real benefits for rental property and fire doors, where drilling is forbidden.

EXTREMELY LONG BATTERY LIFE
In wireless online mode, the battery cells can manage up to 80,000 activations. while the average battery life in standby mode is five years.
MAXIMUM SECURITY
Events logged to record which users have gained access to a particular place at specific times. Lost ID media instantly blocked and unauthorised key copying eliminated (3D printing).
EXCEPTIONALLY FLEXIBLE WITHOUT LIMITATIONS
Extremely simple processes thanks to interfaces between HR department and locking system management. Problem- free handling of modifications to the organisation and room use in places where employees change on a frequent basis. ID media can be issued with limited validity for users such as visitors or maintenance staff
LOW COSTS FOR ADMINISTRATION AND TRAINING
Intuitive operation using existing software ensures that the time and expense for administration and training are kept to a minimum.