Digital Smart Handle Smart Intego
Exceptional design. Excellent technology.
Architects, planners and designers all agree: the SimonsVoss digital door fitting is one of the leading solutions in terms of technology and aesthetics. Its balanced design impresses even the most demanding decision makers around the world.

In developing the wireless SmartIntego SmartHandles, it was also essential for SimonsVoss to focus on its special advantages for buildings with many users. SmartHandle uses a contactless system to communicate with identification media via the card reader integrated into the SmartHandle. It has an average battery life of five years and, like the cylinder, is maintenance-free in wireless online mode for up to 80,000 locking activations.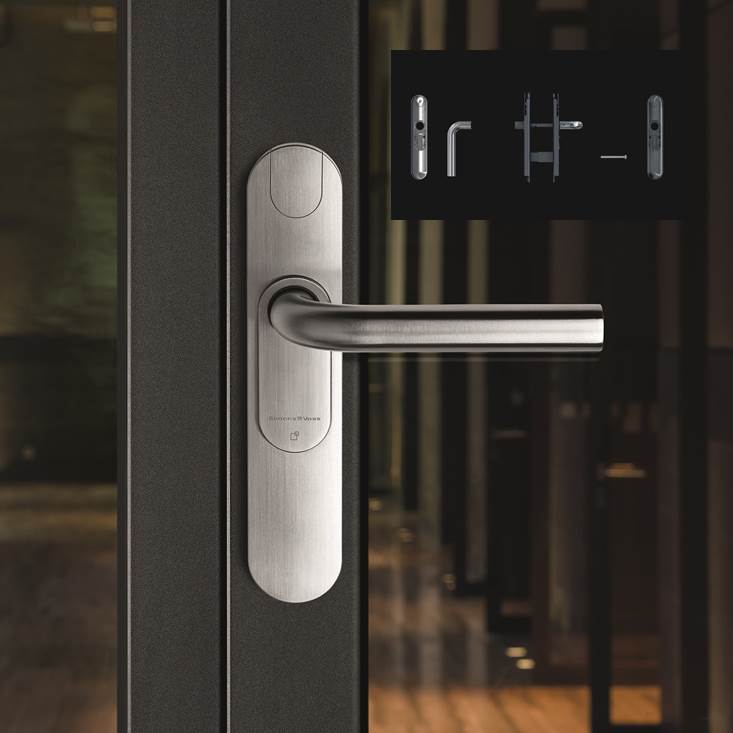 Documents in other languages
Another distinctive feature is the innovative snap-in installation. This simple, instant process can be used on doors up to 100 mm thick without any need to drill additional holes. Honoured with the red dot design award, SmartHandle is an obvious choice wherever timeless elegance and a stylish ambience are required thanks to its range of versions – Euro Profile, Scandinavian Oval and Swiss Round.

Digital SmartHandle is available with four different types of fastening: Snap-in, conventional fastening, rose mounting or conventional fastening with mechanical override (MO). You will find details in our product catalogue.